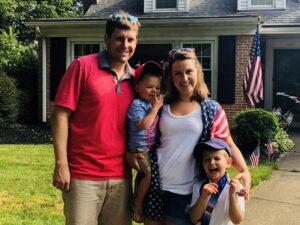 Dr. Jordan Hottenstein joined the Central Berks Dental family in 2009. However, as Dr. Steve Hottenstein's son, he has been learning about teeth for his entire life. After graduating from Wyomissing Area High School in 2001, Dr. Jordan went onto complete his undergraduate studies at West Chester University. It was during his time at West Chester University that Dr. Jordan came to know that dentistry was the career for him. During his undergraduate summer breaks, Dr. Jordan truly began his dental education working at a dental laboratory. "The importance of the knowledge I acquired working at the lab could not possibly be overstated. Many people think that dentists physically make the crowns, bridges, dentures, and other prosthetics; however, the laboratory people are the true masters at fabricating all that good stuff. The chance to work side by side with a dental technician was the opportunity of a lifetime for someone who was trying to achieve a career in dentistry. Not only did it give me a major advantage as a dental student, but it also provided skills and knowledge that I still use every day." After completing his degree a semester early, Dr. Jordan spent the winter of 2005 living as a "ski bum," working as a ski lift operator at Copper Mountain in Colorado. In the fall of 2005, he again followed in his father's footsteps by enrolling at Temple University School of Dentistry, graduating in May 2009. Dr. Jordan joined the Central Berks Dental Center team in July 2009, working part-time through June 2010 while also serving as a resident at St Joseph's Medical Center, Reading PA. Since 2010, Dr. Jordan has been practicing full time at Central Berks Dental. He remains an active member of the American Dental Association (ADA), Pennsylvania Dental Association (PDA), and Berks County Dental Society. He has been listed in Berks County Living and Lehigh Valley Living as a "Top Dentist" in 2012 and 2013, as voted by his peers of dental professionals. When he's not providing superior dental care to our patients, Dr. Jordan enjoys golfing, skiing, cooking, working out, and spending time with his wife Dr. Laura, a pediatric dentist, and his two sons,  JD and Mahlon.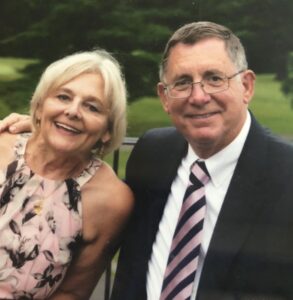 Although born in Bethlehem, Dr. Hottenstein spent most of his youth in Los Angeles, CA. After graduating from high school, "Dr Steve" originally planned on a career in social work. His undergraduate studies were completed in 1968, earning a Bachelor of Science degree in Sociology. His graduation also meant he had a difficult decision to make, as the draft was instituted during the Vietnam War. Rather than be drafted, Dr. Hottenstein joined the United States Navy, eventually becoming a Naval Flight Officer. Serving as a Bombardier-Navigator from the years of 1969-1972, Lieutenant Hottenstein recorded 300 carrier landings and 175 combat missions while cruising the Gulf of Tonkin aboard the USS Enterprise. It was during his military service that Lt. Hottenstein became friends with a Navy dentist who encouraged him to consider a career in dentistry once discharged. Taking his advice, Dr. Hottenstein attended Albright College to satisfy the necessary requirements for admission to dental school. Following two years of study at Albright, Dr. Steve was accepted to Temple University School of Dentistry. He achieved his DDS IN 1979, but continued at Temple University, serving as an Associate Clinical Professor in the Fixed Prosthetics Department until 1995. Following graduation, Dr. Hottenstein returned to Reading to complete a one year General Dentistry Residency at Community General Hospital. As luck would have it, a chapter of the Lions Club in Leesport was building a medical center at First and Peach Streets and was looking for a dentist. Central Berks Dental Center was founded in December of 1980 and the rest, as they say….is history!
Away from the office, Dr. Hottenstein has been married to his wife, Debra, since 1975. They raised 4 adult children (two of whom are dentists!) and have 6 grandchildren. He enjoys traveling anywhere, but especially to baseball stadiums - he has been to 20 of the 30 Major League Baseball stadiums and counting! Likewise, he is a passionate Philadelphia Phillies fan - so passionate, that he was too nervous to watch most of the Phillies 2008 run to the World Series. In fact, he found it easier on his stress level to frantically pace the streets of Wyomissing, returning home only after receiving multiple messages confirming the Phillies victory.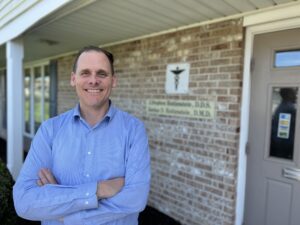 Matthew Hottenstein was born and raised in Berks County, graduating from Wyomissing High School. Matt received his undergraduate degree from the University of Maryland, majoring in History, and then received his Master of Science from the University of Maryland School of Pharmacy. After graduating from college, he worked in the hospitality industry for a number of years before transitioning to the healthcare field. Matt started his healthcare career at the University of Maryland Medical Center working in the Oral Surgery Department. Matt served as the Implant and Orhtognathic Surgery Coordinator for the University of Maryland's Oral Surgery Department for 5 years. Matt and his family moved back to Berks County in 2014, and he began working at Chester County Oral Surgery as the Director of Clinical Operations. In 2017, he was promoted to the role of COO/Practice Administrator. Matt is excited to be a part of Central Berks Dental and hopes to continue the tradition of excellence that his father, Dr. Steve, and brother, Dr. Jordan, have established. In his spare time, Matt enjoys spending time with his wife Maria and his three daughters: Elsie, Adelaide, and Louisa.
DENTAL HYGIENIST
Julia graduated from the University Of Delaware in 2002 with a Bachelor's Of Sociology. She then went onto receive a degree in Applied Science at Northampton Community College in May 2007. Julia joined Central Berks Dental in September 2007. Julia enjoys spending time with her friends and her family - her husband, Dennis, and their 3 children, Dennis, Jackson, and Rose. 
DENTAL HYGIENIST
Melissa graduated from Northampton Community College in 2006 with a degree in Applied Science and joined Central Berks Dental Center in November 2007. Melissa and her husband, Andy, have a son named Ethan. When Melissa isn't providing superior care to our amazing patients, you can most likely find her cooking, exercising, or spending time with friends and family.
Dental Assistant Sue Kemp is a Berks
County native. She graduated from Muhlenberg High School and Northampton Community College. She and her husband have a son named Cade and 3 rescue dogs: Nittany, Witten, and Sammie. Sue and her husband are huge sports fans. She loves Penn State football, Villanova basketball, and the Dallas Cowboys (she has family connections to all these teams!). If she's not watching these sports teams, you can most likely find Sue at her son's soccer games or cross country/track meets. She and her husband also love attending concerts, and they choose a different state each year to go to a concert.
DENTAL HYGIENIST
Graduated from Northampton Community College in 2001. Has been working for Dr. Steve and Dr. Jordan Hottenstein for over 16 years. Lisa is married with 3 children. Enjoys spending time with family.